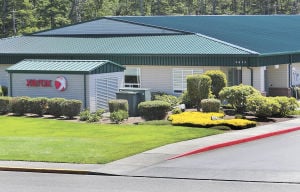 NORTH BEND -- Pack up your classrooms, Lighthouse School, it's time to move.
The North Bend school board voted unanimously Monday night to accept the Coos County Airport District board's offer for Lighthouse School to lease the former ACS/Xerox call center.
The airport district board extended the offer to the K-8 charter school last week. Lighthouse will lease the building for $11,000 a month for 10 years.
If the school loses its charter in five years, the school district has guaranteed it will foot the bill for the remaining five years of the agreement.
The airport district board also offered to remodel the building and bring it up to code for up to $500,000. The school will have to pay for anything above that.
"This is one of those decisions that's going to be fraught with controversy no matter which way we go," said school board chair Megan Jacquot.
School district business and finance director Sherri O'Connor said the agreement will have minimal impact on the budget. The board will need to reserve at least $132,000 in contingency funds every year, just in case the district needs to pick up Lighthouse's rent payments.
"We have that amount and we have had that amount in contingency for the 10 years I've been here and we've rarely had to use it," O'Connor said.
The move comes on the heels of reconfiguration throughout the district. Hillcrest and North Bay will become K-5 elementary schools this fall, bumping Lighthouse out of the North Bay building to make room for a 200-student spike.
If the school board hadn't approved the agreement, interim superintendent Bill Yester said North Bay would have been bursting with 670 students this fall. The school would have needed two double modulars and expensive renovations.
"From a business standpoint, it's real tough to swallow," said board member Bob Adams Jr. "But overcrowding is my biggest concern. We already know shuffling kids around is a disruption."
Jacquot said this outcome will give the reconfiguration implementation plan "the best chance of success."
"There's a lot of risk there, because that's a lot of money if things go bad," she said. "But I think Lighthouse has a good track record."
Lighthouse students have consistently outperformed their peers on standardized tests, meeting or surpassing state benchmarks.
"Every time we talk about whether or not this makes sense as a business model, we're missing something here: a growth opportunity this gets us if we have Lighthouse in another building," said board member Deb Reid. "Each of the other buildings has room to expand."
There would have been no stability with the original proposal of a five-year lease, she said.
"For me, this gives us 10 years of stability for Lighthouse to make a home," she said. "And it locks us in at $11,000. I'm amazed they're offering that."
Lighthouse will have "right of first refusal" to buy the building, should the Federal Aviation Administration ever allow the airport district to sell it.
"As a person who was part of the start-up of Lighthouse, with 50 children and 30 families, no building, and no teachers hired, there's a pretty resilient group of people that got the school going and I think they're up for the challenge of a move and understand what's ahead of them," said board member Alane Jennings.