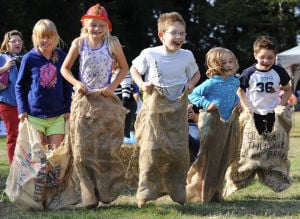 NORTH BEND -- Twenty-four hours a day, 7 days a week, 52 weeks a year, men and women in uniform patrol the streets of the South Coast in an attempt to keep crime at bay.
Most of the time, the only direct contact law-abiding citizens have with law enforcement is when they themselves fall victim to crime or tragedy.
On Tuesday evening, however, Coos County residents and their families got a chance to kick back and relax with local emergency personnel as part of the National Night Out at Ferry Road Park.
The drug-, smoke- and alcohol-free event originally started in 1984 by the National Association of Town Watch to promote community awareness of crime. It's since spread to cities across the country, which celebrate the event on the same day.
North Bend has had its Night Out event at Ferry Road Park for years.
"We love coming down here," said Simpson Heights resident Kent Sharman, whose family has lived in the neighborhood for more than a decade.
While kids clinging to bags of popcorn ran toward giant inflatable slides, others played games at booths manned by local police detectives.
The North Bend event is run as a partnership between the Coos Bay and North Bend police departments, in cooperation with local business sponsors. The Coos County Sheriff's Office and its search and rescue team also took part, along with the South Coast Interagency Narcotics Team.