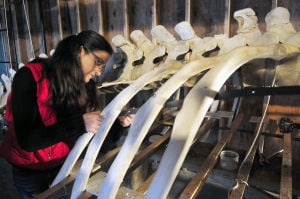 COQUILLE -- County commissioners decided to only give the Charleston Marine Life Center a fraction of the extra funding it needs to wrap up unforeseen construction costs, saying it would be irresponsible to throw money at a non-county project when the county's coffers are already low.
Oregon Institute of Marine Biology director Craig Young came to the commissioners Tuesday morning asking for another $45,000 for the marine center, which has been in development for seven years. Several unexpected code changes mean OIMB is short on funds to finish the center by the end of the year.
Commissioner John Sweet offered Young a compromise: The county will give OIMB a $10,000 "over-the-top" grant from the economic development reserves fund.
"That means that you don't come back again saying, 'I'm short,'" Sweet said. "You can use that pledge as a magnet to attract funding from other sources."
His proposal received unanimous approval, but Commissioner Bob Main tried afterward to give OIMB another $10,000 out of this year's economic development fund. His motion didn't get a "second," so the idea died.
"I wish we could do more, I just don't think we should," Sweet said.
Sweet's hesitation parallels the last time Young went to the commissioners for funding for the marine center. Young asked for $120,000 in February 2013, but Main wanted to bump up the county's contribution to nearly $152,000 (it passed 2-1, with Sweet as the dissenting vote).
COQUILLE -- Coos County commissioners threw $151,896 into Charleston's boat basin Tuesday.
The county's economic development fund pulls from Oregon Lottery revenue, of which the county gets about $150,000 every year. Almost all of that has been committed, but there's nearly $600,000 that hasn't been allocated, so giving OIMB $45,000 "wouldn't make much of a dent," Main said.
Those funds should only be used for emergencies, Sweet said.
In Young's eyes, this is an emergency, but Sweet and Commissioner Melissa Cribbins didn't see it that way.
Sweet said they've already dipped into economic development funds for two emergency projects: replacing the caretaker's facility at Bastendorff Beach County Park and upgrading Tenmile Lake County Park in Lakeside.
"Although we have broken our own rules, I do see a distinction in that this is a non-county project," he said.
Fairview resident Ronnie Herne agreed, noting that the marine center will be University of Oregon-owned.
"It's not a county building; it belongs to the University of Oregon, which is not a poor organization," she said. "We already gave (Young) more than he asked for the first time."
But the center will ramp up tourism, Young countered, which makes it a perfect candidate for the economic development funds.
"To me, this is going to be a huge economic benefit for Coos County to have this," Main said.
In total, the marine center has received nearly $1 million in funding from various sources.
CHARLESTON -- An attraction expected to boost tourism to this fishing community is just a few bones away from opening.
"We are already the second-largest donor to this project," Cribbins said. "Our amount is not inconsequential."
Young agreed, but said he's running out of places to turn for the rest of the funding.
"I have people in the community everywhere looking to this thing anxiously, waiting for it to open," he said. "I really don't think that we want to slow it down again."