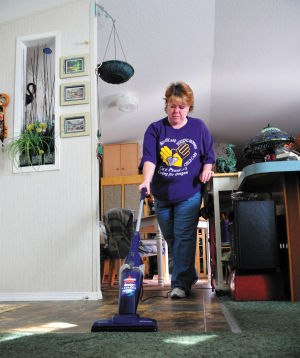 It's a difficult decision.
What to do with your elderly loved ones when they can no longer take care of themselves.
A few options exist in Coos County, such as having them live in a senior center, nursing home or hiring someone to come to the home.
Baycrest Village is one of several local senior living facilities.
Jolene Rogers, community relations director for Baycrest, said sometimes it's difficult to work with senior citizens.
"You try not to become too attached, but you do," Rogers said. "You're with these people every day and just want to make every day better for them. Sometimes you're the only family they have."
She recalled dancing with a wheelchair-bound man last summer.
"I made one of his last days his best days," Rogers said. "People in this industry actually have to have a passion for what they do."
And Rogers is no exception.
"I do it because I love it," Rogers said. "I love everything with them. I like to see how they can still be lively. I know they're safe."
Rogers said it's often difficult to convince people they should move to a care facility. They don't want to leave their house, she said.
"A lot of it's about their house," she said. "But, this whole building is their house. They don't have times where they have to be in at a certain time. They can come and go as they please."
The reason they end up in a facility often is the result of an injury or illness, she said.
"They say they don't know if they really want to be here (in independent care)," she said. "They end up in assisted care, where they didn't want to be. Like I said, they just wait too long."
Baycrest holds events that are open to the public to give people an idea of how it is to live there.
"It's just exposure," Rogers said. "They may not be ready for it, but it lets them know what goes on here."
For many families, the decision to put someone in a care facility is difficult.
"They have a lot of guilt," she said. "But, I tell them, now you can be their son or daughter again instead of their caretaker. I try to get them past that guilt feeling."
She said about 90 percent of residents came from out of state either because they used to live in Coos County and wanted to come back or they looked online and found the facility. She also said many were in their 80s or 90s because people are living on their own longer.
Home care providers
There is another option for those who don't want to put their loved one in a facility -- get someone to come to them.
Oregon Senate Bill 1542 will expand access to home care providers for seniors and others by allowing private payers to hire home care workers through the Oregon Home Care Commission Registry. It passed the House in a 44-14 vote last Friday and is awaiting the governor's signature.
The bill didn't create the registry -- it's been around since 2000.
Sen. Diane Rosenbaum, D-Portland, four other senators and a representative were the main sponsors of the bill. They worked in conjunction with Service Employees International Union, which also contributed $11,500 to Rosenbaum's 2012 campaign, according to Marian Hammond, with Brink Communications, which is providing public relations support for the union.
Meghan Moyer, representative for the SEIU Local 503, said the bill would help home care workers and seniors.
"SEIU has 18,000 home care workers in the state who take care of Medicaid patients," Moyer said.
The cost of caregivers through the registry will be about $16 to $17 per hour, according to Hammond.
There are about 505 home care workers listed on the registry in Coos County, Hammond said. Everyone on the list has passed a criminal background check.
Bobbie Sotin, a member of SEIU, is one of the care takers in the county. She has been a home care provider since 2001, after her daughter graduated high school.
She said she was avoiding the empty nest syndrome.
"I'm a care person," Sotin said. "I've been taking care of my mom for years."
She said she enjoyed providing care to the elderly and disabled. People can pick out a provider online, even from the other side of the country.
"Sometimes you're with that person more than anybody else," Sotin said.
Duties can range from taking them to the doctor, reminding them to take their medicine, doing their laundry and more.
"It's nice to be able to make people comfortable in their own house," she said.
Sotin said people often preferred staying in their own homes as opposed to being in a care facility.
"There's a relationship you have with people," she said.
She's had a couple of her clients pass away. She said it's always hard.
"A lot of them don't have a family or their family's in another state or they didn't have any communication with them."
Clients can choose, hire and work directly with the caregiver who best meets their needs. The consumer pays the state for the caregiver's time and the state handles all of the payroll and taxes.
Janice Adolphson, 76, is one of Sotin's clients. She said she found Sotin about three years ago on the state's website for the Oregon Home Care Commission, Her diabetes and leukemia sometimes made doing simple chores or going to the doctor difficult.
The 20 hours per month that Sotin helps Adolphson are a godsend, even though she can do some things on her own.
"When people can't get around on their own, that's when they really need help," Sotin said.
Adolphson said she's had those moments, but doesn't plan to use a nursing home if she can help it.
She likes being at home.
"I'm very happy here," Adolphson said.