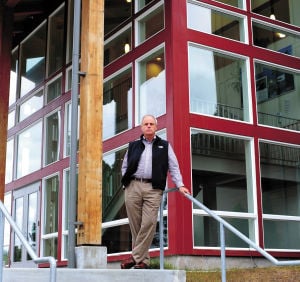 COOS BAY -- Oregon Coast Community Action has streamlined services and overhauled its bookkeeping, putting the nonprofit on solid financial ground after a rocky past couple of years.
Auditors are combing their way through ORCCA this week, compiling information for the organization's annual audit.
Executive director Mike Lehman was hired in February 2013, several months after CEO Mary Schoen-Clark resigned in the midst of intense criticism that she created a hostile work environment and ruined relationships with local food pantries.
This year's 45-minute budget process was a 180-degree turn from 2013, when the board discussed the budget for nearly eight hours and still had a $400,000 deficit, $170,000 of which was in South Coast Food Share.
In the last year, most of those issues have been resolved, with only a $3,000 deficit left in Great Afternoons and a $3,000 to $4,000 hole in Food Share.
"A couple years ago, we really were in risk of being non-compliant," Lehman said. "It's not that we were not spending money correctly, but (auditors couldn't) tell what (we were) doing. It's just such a nightmare."
This sigh of relief came after a year of cutting about $400,000 in operating costs. Some staff was cut, as well as excess in programs, including cutting the Food Share trip to Curry County from three times a week to once a week.
"It's not that they were fat and happy before, but we just tightened everything down and made certain we were doing things smart," Lehman said. "Some of that's bad in that one of the things we really struggle in is to get the development department up and running, which is raising grants and fundraising. At one time we had four people doing development, now we're back down to one, when we should be up around three."
This year's streamlined budget also allowed ORCCA to remove a two-year pay freeze, giving its staff cost-of-living wage increases.
The 2011-2012 audit (during Schoen-Clark's time as CEO) showed ORCCA had a "material weakness" in its accounting department. In three years, the department went through four chief financial officers. Now, Angie Billings has helped overhaul finances.
"Our books are finally cleaned up," Lehman said. "We expect to cruise through this audit much, much easier than the last."
Messy bookkeeping was the result of inexperienced staff due to high turnover, the complexity of the campus construction project, and requirements of the American Recovery and Reinvestment Act of 2009.
The ARR Act was "dumping money into weatherization," he said.
"The whole objective was to get it in, get it spent and weatherize homes, energy efficiencies, all those things," he said. "The minute you start doing that it really starts putting pressure on your accounting system."
The 2-year-old, $10 million new building complicated finances even more. The New Market Tax Credits Program allowed ORCCA to use the community's low-income status to secure private donations. The project grew from a food pantry to adding Head Start classrooms to consolidating all the executive offices, and much more.
Meanwhile, Schoen-Clark was fielding complaints from area food pantries, who said ORCCA's food department was withdrawing food supplies, launching billing arguments. Lehman said community relations wasn't her "forte."
"You get into a battle with them (food pantries) and how do you win that? You look like a bully," he said. "And that's what (ORCCA) looked like, an incompetent bully.
"Those three things came together to make the books just a disaster."
In his first year leading the struggling organization, Lehman said his biggest concern was stabilizing the nonprofit financially.
"Just don't do anything stupid and you'll be OK," he said. "We were getting people in place, keeping them there, stabilizing finance and fundraising. Settle things down and it gets better."
This fall, Lehman hopes to get word that Oregon's Early Learning Council chose ORCCA as the site of an early learning hub, which would serve Coos, Curry and western Douglas counties.
He also expects a lawsuit pending against the organization to go to trial in October. Two ex-employees allege Lehman created a hostile work environment and forced them out.