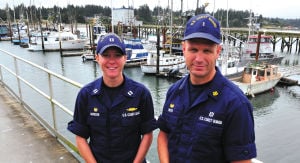 CHARLESTON -- The United States Coast Guard is a vital, and constant, presence on the Oregon coast. It is also a fairly transitory occupation for the men and women who make it their career. Typically, after three years at a particular post, the time comes to move to a new location.
Such is the cycle that has made this a particularly busy year for the local Coast Guard command, with two new leaders already in place and one more change coming this week.
It all becomes official during a change of command ceremony. According to the Coast Guard, the ceremony is a time-honored tradition, representing a total transfer of responsibility, authority and accountability.
At one ceremony June 20, Chief Warrant Officer Kary Moss relieved Chief Warrant Officer Charles Chavtur as officer in charge of Coast Guard Station Coos Bay, located in Charleston.
Moss comes in from Coast Guard Sector New York, on Staten Island, while Chavtur is off to Coast Guard Station Bellingham, Wash., where he will also be commanding officer.
Almost exactly a week later, Lt. Samantha Gordon relieved Lt. Cmdr. Todd Behney as commanding officer of Coast Guard Cutter Orcas, located near downtown Coos Bay.
Stationed in Coos Bay since 1989, the Cutter Orcas is a 110-foot patrol boat that replaced the CGC Pulaski.
Gordon arrives from Coast Guard Headquarters in Washington, D.C., while Behney reported to the Naval War College in Newport, R.I.
Different paths
Last week, both sat down at Station Coos Bay to talk about the individual paths that led them here and what challenges may await them in their new command.
While their backgrounds are quite different, their command outlook is, perhaps not so surprisingly, uniform.
Moss, who is from Redmond, is happy to be returning to familiar surroundings. He met his wife at his first Coast Guard station assignment in Newport over 20 years ago, which is also where his son and daughter were born.
"Been in for almost 26 years," Moss said, "and this will be the sixth surf station that I've been to, so it's really kind of my specialty."
However, his ties to the Coast Guard in Oregon run even deeper than that.
"As a kid growing up, my grandparents would fish out of Newport. Every summer, like from when I was 10 on, I would come to the coast to spend a couple of weeks with them and we would fish. We'd go past the Coast Guard station every day and always see the Coast Guard out on patrol, talking to people, never heard one person say anything bad about the Coast Guard. I said, 'I'm going to join when I get out of high school.' And I did it."
One thing Gordon's upbringing had in common was the rural landscape.
Originally from Smithville, Mo., she is the younger of the two commanders who said she grew up with the four-legged variety of neighbors. "Cows."
"I graduated from the Academy in 2008, with honors," Gordon said. "I wanted to join a service for sure, I wanted to serve my country."
To be honest, though, she said that before joining she didn't even realize there was a Coast Guard.
"Stumbled across the Coast Guard Academy on some Google search, and saw the missions and loved it. I joined and haven't looked back since."
Part of what brought her to Coos Bay was the opportunity for her fiance, a medical professional, to also find work. But it also represented a new challenge for someone who had spent most of her career on the other side of the country.
First established in 1878, Station Coos Bay is located in the mouth of Coos Bay, and is the seventh-largest port on the West Coast.
According to Coast Guard officials, when the bar is breaking it is narrow and dangerous, but it's only a short transit before entering the sheltered area of the jetties.
Challenges? What challenges?
Like all posts, Coos Bay offers its own unique challenges. The highly unpredictable weather would be one. Still, "challenge" is not a word either commander is quick to use.
Moss, for instance, said what some may consider a challenge is really just part of the job for a member of the Coast Guard.
"Keeping people safe, making sure (our people) are trained, they are well equipped," he said, is the nature of the post. "And then we have to push to get the most proficient people possible. But that's my mission, you know, I don't consider that to be a challenge. That's the job. That is what we signed up for when we took these jobs. There's good days and bad days, absolutely, but you are going to have that with any job."
Gordon concurs.
Likewise, both agree teamwork and communication are the secrets to being successful at those jobs.
"That's the one thing I love about the military, and about being on a smaller unit," she said, "just being part of the Coast Guard, in general. We are the smallest service, so we have the opportunity to work more closely and know everybody. We are very much a family.
"You have to talk, you have to communicate. Everyone needs to know what is going on if the plan is going to work."
Both also said the community is a big part of their plan, and they encourage people to come by with questions or just to say 'hello.'
"Our mission, in 'plain English,' so to speak, is 'Protect those on the sea, protect the nation from threats delivered by sea, protect the sea itself," she said. "Questions? Want to see the boat? Please, do come on by."
"The public, the community, is our customer," Moss added, "and we are here to serve our customer."