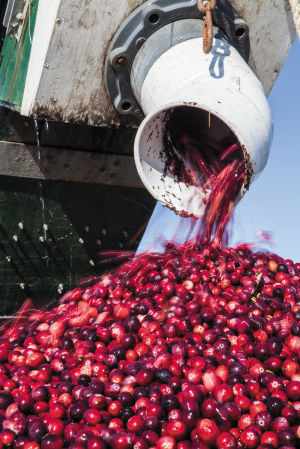 Oregon produces 40 million pounds of cranberries a year, and more than 90 percent of Oregon's crop comes from Coos and Curry counties.
Native Americans on Oregon's northern coast gathered wild cranberries. But it wasn't till 1885 that Massachusetts native Charles McFarlin realized that cranberries would thrive on Oregon's sandy South Coast and planted the first vines. Commercial bogs were few until 1946, when the Ocean Spray cooperative expanded its operations to Oregon.
Today, Coos and Curry counties have more than 150 cranberry farms. The area's long growing season produces dark, sweet cranberries that are sought after both for fresh consumption and for manufactured cranberry products.
A cranberry bog is a depression surrounded by a dike with a natural or artificial impermeable layer underneath that allows it to be flooded. Once a cranberry vine is planted, with proper cultivation, it can produce fruit for more than 150 years.
In spring, bees are brought to the cranberry farms to pollinate the flowers. The fruit grows all summer. Sometime between October and December, it is harvested by flooding the fields and using machinery to knock the fruit off the vines. The fruit floats to the surface and is gathered with a conveyor belt. Cranberries also can be harvested dry with mechanical equipment, a more labor-intensive process that allows the fruit to keep better so it can be sold fresh.
Although the South Coast's small growers have good seasons and bad, cranberry growing is a South Coast industry that won't go away. The city of Bandon has celebrated a Cranberry Festival each year since 1946.