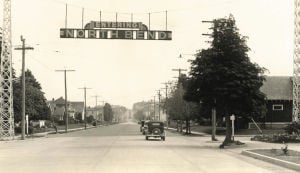 In 2011, the city of North Bend installed the current "Welcome to North Bend/Come Back to North Bend" sign at the north entrance to town. It's the latest in a succession of signs that have graced that location since 1936.
The original sign and its successors underwent various repairs and improvements, but too often, in the rainy and windy coastal climate, they welcomed visitors to NO TH B ND. The original sign was red neon, but it was changed to green at some point.
The current sign is a red neon replica installed on new support pylons closer to the bridge than the original. When engineers deemed the old sign and its pylons unsafe, the city considered erecting a sign using modern LED technology. But tradition won out.
The Oregon Department of Transportation also kept tradition in mind when it "grandfathered in" installation of the new sign. The 1936 sign was one of the last over-the-highway neon signs ever approved in the state.
Art Deco doodads on the new sign and the design of the new pylons reflect the style of the iconic McCullough Bridge nearby. The city donated the previous sign to the Coos County Historical and Maritime Museum.