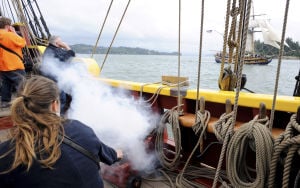 COOS BAY -- Hollywood has embedded naval battles in the minds of the public on a grand scale. Giant frigates firing away at each other broadside are staples of movies like Master and Commander and Pirates of the Caribbean.
The modern reality is a little bit different, as guests aboard the Lady Washington and Hawaiian Chieftain found out Sunday.
The tall ships, docked in Coos Bay for the week, are armed with 3-pound deck guns and smaller swivel guns that they incorporate into their educational programs.
A cannon's "poundage" refers to the weight of an iron ball cast at the diameter of its bore. These cannons, of course, aren't loaded with shot and shell -- only blanks.
The Hawaiian Chieftain, a ship custom built to new specifications in the 1980s, is the more heavily armed of the two, carrying two swivel guns and four deck guns.
The Lady Washington, a historically-accurate replica, carries two deck guns and two swivel guns. To keep things "fair," the Hawaiian Chieftain only uses its deck guns during battle sails, said Capt. John Morrison.
From the get-go, the crew stressed safety first and foremost. "When there's gunpowder on the deck, no smoking," First Mate Patty McLaren lectured passengers after putting orange foam earplugs in her ears.
Trading shots with the Lady Washington proved a challenge as it raced north on the bay.
Acting as the ship's sole gunner on the voyage, McLaren spent most of the voyage racing back and forth between cannons with a piece of slow-burning rope on the end of the short wooden pole. After each shot, the barrel has to be swabbed out and then loaded with a gunpowder charge that's rammed home and primed through the vent at the cannon's breach.
In the midst of the smoke, the remaining crew darted from bow to stern, adjusting the sails in the midst of the increasingly heavy rain. Judging by the cheers from onlooking passengers at each echoing shot, that nasty weather was more than worth the chance to see the big guns in action.
For information about sailing opportunities aboard the tall ships, visit theworldlink.com/tallships.