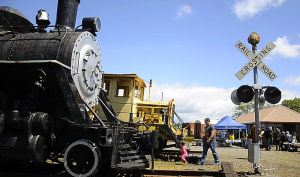 COOS BAY -- You don't have to be a "railroader" to work on the railway museum in Coos Bay. You don't even need to have a love of trains, but it helps.
Established in 1982 as a nonprofit organization, the Oregon Coast Historical Railway is a group dedicated to the preservation and interpretation of the historical railway and logging equipment of Oregon's South Coast. They have also been dedicated to getting their dreams accomplished while operating on a shoestring budget.
More than 10 years ago, that determination led them to their current location along U.S. Highway 101 near downtown Coos Bay. They are hoping it will also help them take the next step.
"We are on no budget-low budget," says Dick Jamsgard, one of the longtime members of the historical railway. "We are all nonprofit and all volunteer. We're trying to do the best we can."
Hundreds of people seemed to enjoy their "best," as train fans new and old passed through the museum gates last weekend during the Fourth annual Amtrak National Train Day event.
People rang train bells and climbed aboard cabooses with interactive media on board, but railway officials hope to one day have moving trains for the event. Achieving that dream, Jamsgard said Saturday, will take growth and more volunteer help.
"We are trying to get equipment running," he said. "That's a big item. We need more mechanics and more help for restoration."
There are also an abundance of restoration projects that need attending to, with a handful already underway.
"We're constantly doing a restoration project, probably four or five things are going on at the current time," he said. "(We are working on) the steam train that worked from Myrtle Point to Powers, the cabooses are under construction, and our diesel engine out back, the 111, we're working trying to get it painted and get it running. So, we constantly need help and need more people to give us a hand."
If you want to help, but can't do the physical volunteer part, the organization is also looking to increase membership. Memberships cost $25 per year, $35 for couples, and help maintain the historical railway programs. You can find more information about membership and volunteer opportunities on their website at www.orcorail.org.
As for volunteers, Jamsgard says they will gladly accept any kind of assistance.
"We'll make room for everybody, whether you wash windows or paint, weld or kill weeds, or spread sawdust, we have got something for everybody. Give us a hand," he added with a smile, "Come on down."