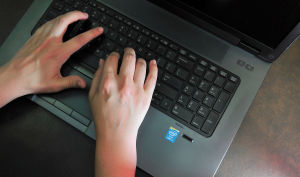 COOS BAY -- A couple of years ago, a photo of a sign in front of Joe Dough Sandwich Shop in Manhattan made the rounds on the Web: "Come in and try the worst meatball sandwich that one guy on Yelp ever had in his life," it said.
That was a good response to a bad online review, said Misty Lambrecht, a social media expert who'll teach a class in online reputation management through Southwestern Oregon Community College's Small Business Development Center this month.
The best response depends on "where you get the review, who gave you the review, and how accurate it is," Lambrecht said.
A completely inaccurate review -- you sell tires, but someone critiqued your margaritas -- can be removed from Yelp via the site's dispute process.
Other times, a bad review can be turned into an opportunity to showcase something good. "Claiming" or "registering" your business's page on a review site enables you to respond to reviews.
"Let's say you're a hotel next to the highway, and someone says, 'This hotel is really noisy,' and they give you a one-star review," Lambrecht said.
"That's not a bad review for you. If they picked the hotel they could see from the highway and they were too stupid to know that it would be noisy, that's not really a direct reflection on you.
"The way to respond to that is to say, 'We have great freeway access, and we're sorry you didn't note the location when you were staying with us.'"
If the customer has a legitimate gripe, it's good to apologize. The biggest mistake is to ignore bad reviews, Lambrecht said. And don't ignore the good ones, either.
"If someone says, 'This is really great food,' in front of your face, you probably wouldn't walk away and say nothing," Lambrecht said. Acknowledge good reviews with online thanks.
In fact, there's nothing wrong with reminding customers to review you. Some restaurants put a QR barcode right on the menu with a link to the business's Yelp page, making it easy for customers to dash off a review on their smartphone while they wait.
But don't reward reviewers with a discount or a cup of coffee; that's a violation of Yelp's policy.
If you're selling a product online, having your terms of sale in a very clear location will strengthen your position in online disputes. Choose a Web shopping cart that won't let customers check out until they've clicked "I agree" to the return policy. Then, if someone gives you a bad review, you can mention the return policy in your response.
Some businesses, such as veterinarians, physicians and attorneys, aren't in a good position to respond to spiteful critiques. Someone complains that their cat died after they took him to you? The less said, the better. But with a gracious response, "usually restaurants and hotels can pull it out, unless they're really terrible," Lambrecht said.
Not all comments, good or bad, are on review sites. Some are on Twitter or Facebook. "You should monitor your social media presence," Lambrecht said. Free and paid services -- like socialmention.com, mention.com, and Google Alerts -- alert you via email or text when you're mentioned on Google or social media.
Different kinds of people frequent different review sites. UrbanSpoon seems to be the domain of environmentally conscious diners, TripAdvisor is frequented by mothers reviewing kid-friendly businesses, and Yelp is more of a catchall, Lambrecht said.
Bad reviews aren't the only thing that can harm your reputation online. Lambrecht said small-town businesses often are bashed on Facebook when they turn down a request for a donation. To avoid that, Lambrecht suggests notifying organizations of your donation policy -- so much a year, for example -- and having them fill out a form requesting the donation, instead of telling them "yes" or "no" while they're standing at the counter. Then toot your own horn when you do make a donation.
If you want to get better reviews, don't just call your friends and tell them to post five-star raves on review sites. Yelp and other sites monitor reviews and will delete reviews that show a pattern of sudden enthusiasm. Three- and four-star reviews that provide a balanced impression of the business are more realistic.
Lambrecht said that's the approach members of the Corvallis Chamber of Commerce took when each committed to review a different local business once a month. The genuine feedback they provided was useful to the business owners, as well as providing information for potential customers.
Freelance writer Gail Elber can be reached by email at gailelber@gmail.com.