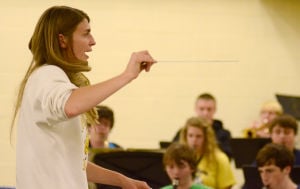 NORTH BEND -- In just two months, North Bend High's symphonic band went from despair to domination.
The 61-member band took home first place in the 4A division at the OSAA 2014 Band/Orchestra State Championships Wednesday night at Oregon State University, beating out 12 other schools.
"In the school's history, this has never happened," said Amber Yester, the band's director.
But just two months ago, the band wasn't on track to take home top honors, despite placing higher and higher every year since Yester took over, even landing in second place at state last year.
"At a band festival at the end of February at Oregon State University, it was our first competitive event (of the year) and we just got hammered," she said. "They were all disappointed and everyone wondered what happened, since we did so well last year."
It was the lowest score a band of hers had received in her teaching career.
The band played two pieces: "Of Sailors and Whales," by W. Francis McBeth, and "Heartbeat Five," by Gary P. Gilroy.
"Sailors" is the toughest of the two. It's a collegiate-level piece Yester chose from the 6A list that includes a huge range for each section, extremely technical runs, a key that's difficult for tuning, and sections that are sung by the students. Yester was thankful for choir director Ken Graber's help teaching the band to sing in three- and four-part harmonies.
Besides all of this, the band needs a lot of endurance to make it through: it's 16 minutes long.
After the punch in the gut at OSU, Yester considered tossing out the piece and starting over.
The kids convinced her, though, that they could do it.
Each section worked on its own to master the piece, putting in hours upon hours of practice on their own without Yester asking.
A month later at districts, the band won.
"That reinvigorated the kids," she said. "They worked their butts off."
On stage Wednesday night, the band raised the bar even higher: they earned the highest score of Yester's career. They also beat out last year's champion, Ridgeview High, from Redmond.
"We beat them by a 20-point spread this year, which is huge," Yester said.
Out of 360 possible points, 300 come from the performance and 60 come from sight reading (the band is given a piece of music it's never seen before and asked to play it on the spot).
North Bend got a score of 312. The three judges gave the band scores of 86, 93 and 93.
"That's as close to perfect as you can almost get in band," she said. "It's very uncommon to get a score in the 90s."