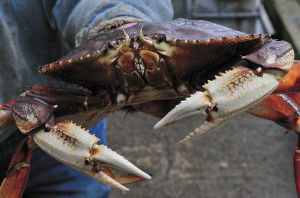 Every place worth coming home to has things that are characteristic of that place. Paris has its baguettes. New York has its bagels. Seattle, well, that's obvious -- the Space Needle.
Get the idea?
For the next eight weeks, The World will be telling the story of our area in 40 things. From Reedsport to Port Orford, Coos Bay to Powers, we've picked out things that play a part in making our area what it is.
Some you can hold in your hand, such as an Empire clam. Some are sights unique to this area, such as the chip piles along Coos Bay. Some reflect a historical moment, such as Steve Prefontaine's trophies in the Coos Art Museum. Others mark the cycle of the year, such as the Shore Acres Christmas lights.
Writing for The World will be Gail Elber. Longtime readers may remember Gail's byline from a year ago. She's come back to help us with her extensive knowledge of the South Coast and her eye for what objects are uniquely us.
We'll feature one new story every day inside the A section of the newspaper, as well as collect them online. As our list unfolds, day after day, think about something that says "home" to you. Tell us about it in the comments. We might have left it off our list, and if it says "home" to us, too, we'll make sure we include it.