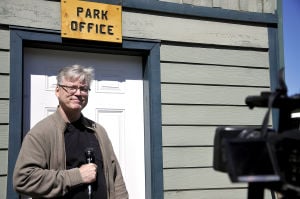 NORTH BEND -- When Zachary Porter left his home in McMinnville in July 2013, he told his family he was off to sell a motorcycle.
A single parent and the primary caregiver for his disabled mother, the 25-year-old was driving down to the Hauser area between North Bend and Lakeside to sell the bike back to the man who had originally traded it to him.
Shortly after arriving July 23, Zachary sent his father a text message, saying he had made it and was waiting on a ride home.
That was the last anyone heard from him.
A year after his inexplicable disappearance in southwestern Oregon, Zachary's family and investigators are making another push to promote the case, hoping the publicity jogs someone's memory.
Talking to assembled media Saturday at Riley Ranch County Park south of Lakeside, Zachary's father Myron was candid that he fears the worst has befallen his son.
"For him not to try and reach his son, for even a 24-hour period -- it just never happened," he said. "I believe something bad has happened and I want to get to the bottom of it.
Zachary's father had driven down to join a group of Coos County sheriff's deputies -- some uniformed, some plainclothed -- canvassing the Hauser area with fliers over the weekend.
Zachary is described as 5-foot-11, and weighing about 180 pounds. He has brown hair and eyes.
Investigators believe he made it safely into Coos County, but that's where the trail narrows and seemingly ends.
When the investigation began in 2013, the Sheriffs Office first concentrated its search efforts in the Hauser area, but later received information placing Zachary's location somewhere between North Bank Lane near Coquille and the junction of U.S. Highway 101 and state Highway 42.
Deputy Jason Patterson said investigators haven't gotten many leads since. "It's gone pretty quiet," he said.
Myron said the story behind his son's fateful trip involved a motorcycle he had received from a South Coast man in partial trade for a car.
After Zachary
Myron said his son planned to get a ride back to McMinnville from the man.
"As was told to me from Zachary, the buyer of the motorcycle had a business trip in Seattle and was going to drop him off in McMinnville on the way," he said.
That man, who he didn't name, has since been questioned in relation to Zachary's disappearance.
Myron didn't say whether he's thought to be a person of interest.
Investigators now say they hoped to get Zachary's case publicized as far south as Los Angeles, where he had talked about opening a body shop.
But Myron is doubtful.
"I ruled that out immediately," he said. "He knew he was several months before he would be able to start the business."
After Zachary messaged his father to say he'd arrived, there were other texts sent from his phone.
Who sent them has yet to be determined.
"In my mind, those are questionable," Myron said. "It didn't sound like Zachary."
Anyone who has or think they have information related to the case is asked to call the Coos County Sheriff's Office directly at 541-396-7800, or its non-emergency dispatch line at 541-396-2106.